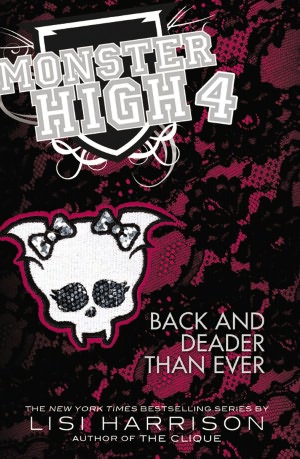 Monster High 4, Back and Deader Than Ever
Lisi Harrison


This last book in the Monster High series (although I hear there may be a spin off) was disappointing. Lisi Harrison's monster are finally out of hiding and are being accepted by the kids of Mertonson. Problems arrise when Lala's father comes home to roost. He causes all kinds of trouble for Lala and her friends. The reason I wasn't crazy about this book is that Harrison doesn't seem to fully find resolution in this plot. She cops out by fixing things in the epilogue, but you don't see how. I only include it on the blog page because so many of my students have enjoyed this series so far.
If you are crazy about the RADs of Monster High, check out the interactive web page to go with the book series.
www.monsterhigh.com